Supporting Our Heroes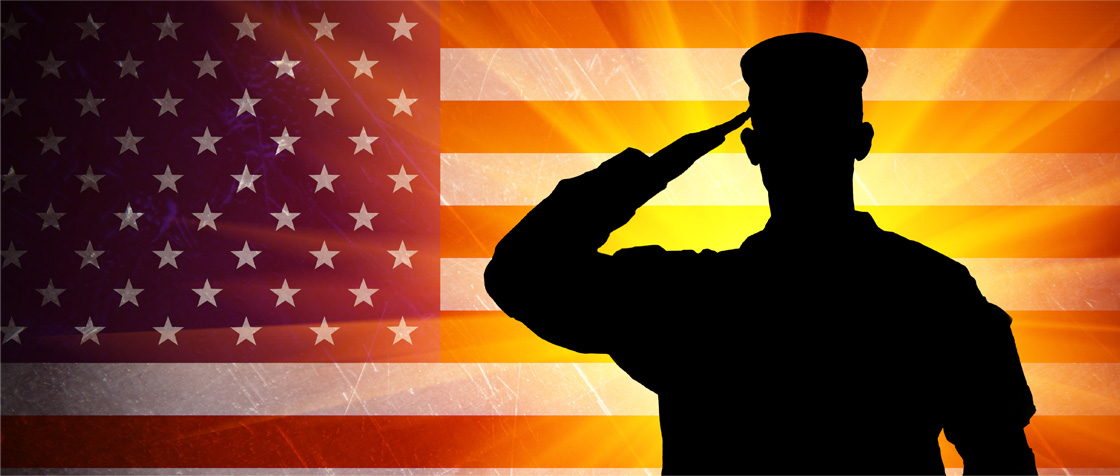 Zac's Burgers salutes our veterans who have fought and sacrificed for all the rights and freedoms we hold dear today.We believe it's essential to say thank you by giving back to them in any way possible.
Therefore, we are now actively collaborating with veteran organizations in order to provide special incentives for veterans interested in investing in a Zac's Burger Bus or burger franchise location.
As a veteran, your military background has primed you for the world of business. Not only are you uniquely qualified to be a business owner because of the skills you have learned, but also because of the values that have been instilled into you during your military service.
Leadership, meticulous planning, hard work, and teamwork are just few skills and values you possess that makes owning a Zac's burger franchise the perfect fit.
According to the U.S. Small Business Administration's Office of Advocacy, about 2.52 million business in the United States are majority-owned by veterans and 99.9% of them were small business. Are you a veteran who is looking for a new career after completing your military service?
All qualifying veterans and immediate family of active duty military are eligible for these special incentives.
Start Here!
Fill out the form for more information.
Become Part of the Zac's Family

Family Owned and Operated business for 33 yearsFive Philadelphia Area Stores
Located at Lincoln Financial Field, Home of The Philadelphia Eagles
Commitment to Quality
Customer-Focused
Proven Business Model
Make more money and be your own boss!
Why a Burger Food truck license?
The food truck industry has really been booming in the last few years and this is an exciting business opportunity for any veteran who has always dreamed of owning his or her own business. A food truck can be a good first step for new business owners. Here are some reasons to consider starting a food truck instead of a brick and mortar business.
Whether you just love the food truck concept or plan on using it as a stepping stone to a brick and mortar business, a food truck makes good business sense for first time business owners. You need the same skills to run both, but often times a food truck is a more affordable first investment to make with fewer overhead costs and it allows you to start building your brand small and learning the ropes of owning your own business before expanding. Because everything is on a smaller scale you have the flexibility to try new products and new strategies out without making a big commitment to it. Too many restaurants fail not because the owner lacks passion or a hard work ethic, but because they are inexperienced at picking the right location and managing inventory for example. Because it is just you or at the most another one or two others on the food truck you have to be hands-on in every aspect of running your business so it is easy to work out all the kinks.
It is also easier to diversify your income with a food truck because you can also take on catering jobs and even offer cooking lessons with it. This allows you to take on other types of customers that you might not be able to reach otherwise. Another pro of owning a food truck is that you will be able to get a real sense of who your customers are and which neighborhoods respond better to your menu as you travel around the city. It is easier to test out new dishes on a food truck then in a restaurant because it is on a smaller scale. If a particular dish doesn't do so well, it won't hit you are hard in the pockets if you introduced it on your food truck.
Zac's Burger Bus Benefits
Be Your Own Boss
Low Startup Cost
Minimal Operating Expenses
2 Weeks Paid, Personalized Training
Free Product to Promote Your New Business
Access to Commissary
Easily Travel to Events, Festivals, and More!
Ongoing Business Support
Did you know?
The food truck industry is experiencing a renaissance and now is a great time to own your own food truck. With people looking for quick, affordable meals on the go, the need continues to grow, especially for those that serve the quintessential American meal – the burger.
The Zac's Burger Bus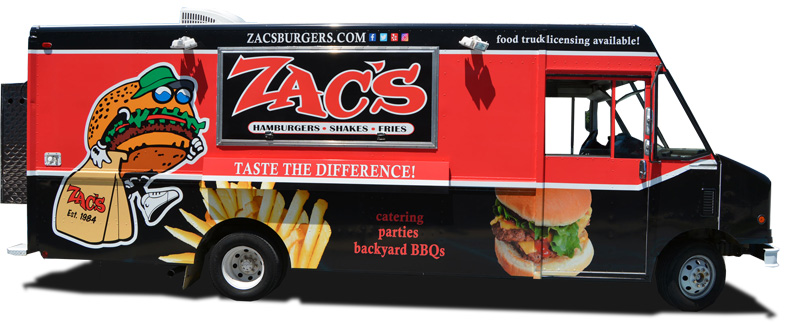 Burgers are an American staple that will never go out of style. By joining Zac's Burgers food truck franchising & licensing program, you will be able to capitalize on Americans' needs for burgers and their desire for quick, affordable meals that you can eat on the go.
Also when you license a Zac's Burger Bus you get to be your own boss for your new burger bus and enjoy benefits like low startup cost, minimal operating expenses, two weeks paid, personalized training, access to commissary and ongoing business support.
Franchises like Zac's Burger offer you the security of offering the food of an established brand that people love already. Also most burger franchisors like Zac's Burgers will offer support which will be indispensable to those who are new to the food truck and restaurant businesses.
When you license a food truck from a franchisor like Zac's Burgers who has locations in Philadelphia and the Delaware Valley, not only do you get a preset menu but you can also take advantage of their brand power. Zac's Burgers is known for being a family-owned business that treats its customers like
Interested in Owning a Zac's Franchise or Burger Bus?
Complete the form above or call 484-652-8115 learn more about our veteran franchising opportunities and our food truck franchising & licensing program.