Reserve the Delaware County, PA Food Today!
Now Available for Events, Catering, Parties & More!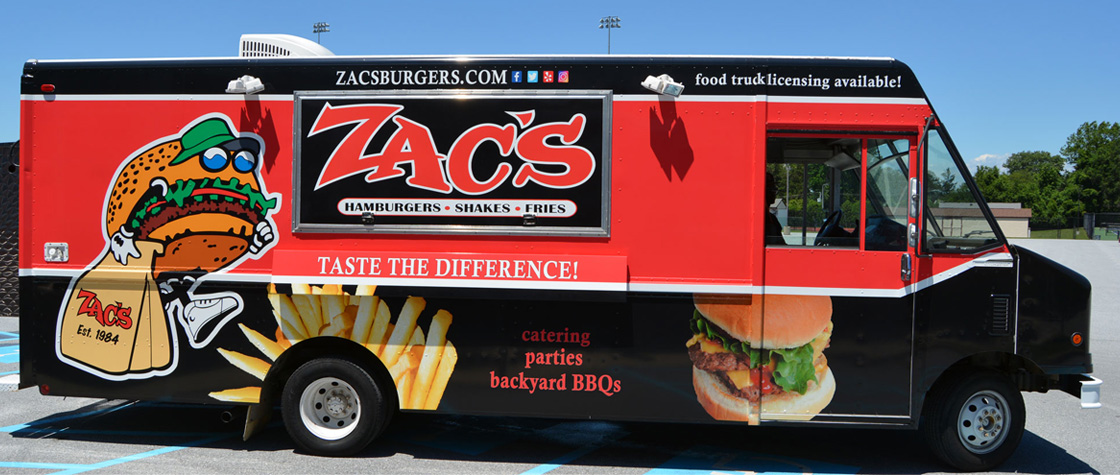 Are you hosting a special event in Delaware County, PA, and want to make it extra special? Zac's Burgers' Delaware County Food Truck owned and operated by the Politarhos Family can bring a unique and fun vibe to any of your events.
By choosing Zac's Food Truck Catering for your next event, you and your guests can enjoy Zac's special take on burgers, wings and chicken sandwiches and don't forget about the variety of fresh sides that can complement the meal. Your guests will love a switch from the typical buffet or sit down meals that are offered at special events. Food truck catering is still a very hot trend that you don't want to miss out on, and the great thing about choosing a Zac's Burgers Food Truck you will still get the high quality and commitment to service you always receive from Zac's.
Zac's Burgers Delaware County Food Truck can serve all your special occasions including birthday parties, company picnics and weddings.
Areas We Serve
Looking for event catering in Delaware County, PA? The Zac's Burger Bus is now cruising Delaware County, PA looking for you! We serve:
Private Events
Public Events
Sporting Events
Festivals
Corporate Parties
Birthday Parties
Weddings
Bar/Bat Mitzvahs
Concerts
Community Events
And more!
 The Delaware County Food Truck is Owned and Operated by the Politarhos Family.
Food Truck Menu & Pricing
Package 1
Choice of 3 main dishes
*Choice of 1 hot side
Paper products
Bottled water
Canned soda
Contact Us Below for Pricing
Package 2
Choice of 3 main dishes
*Choice of 1 hot side
Paper products
Contact Us Below for Pricing
*Hot Sides: French fries, onion rings, waffle fries, or sweet potato fries